Well, I have to say I was on the fence about putting dragons in the Chronicles. Mostly it's because, no matter how much I may like dragons, they seem cliche to me. Plus they just didn't seem to
fit
into the chronicles. If I were to have dragons I knew they would be a entirely sentient race, not animals, not something to ride on (in fact, a human riding a dragon is about the lowest of the low for my dragons).
So, still undecided I've been vaguely thinking about them from time to time and then I had the perfect idea: Mages and dragons have a mild rivalry going on between them, namely who is superior than the other. This idea just grew and grew bringing with it history and how dragons came into existence, the scuffles between the mages and dragons and now, they fit perfectly. In fact, I already have dragon a character (though unfortunately he shouldn't make an appearance until book 2) and it was really him who said, "Yes, us dragons do exist," with an eerie smile on his face. His name is Oris and here's a simple drawing of him: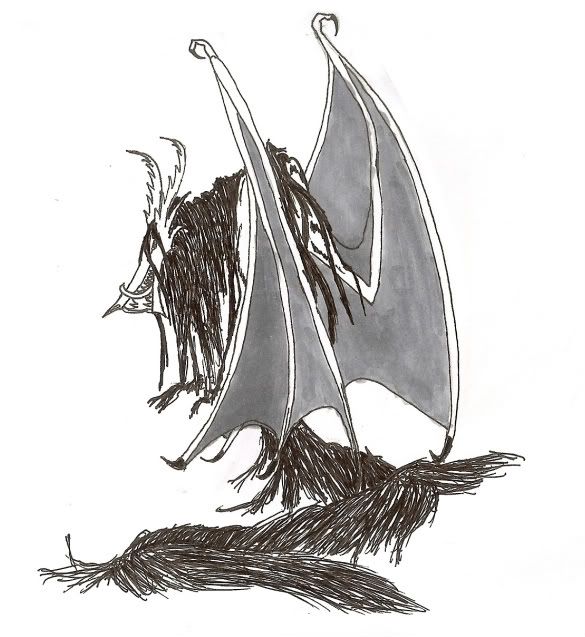 (Click for larger version)
Probably not the best but it catches him. He's not the nicest dragon and is rather frightening at times. As you see my dragons do have hair, as well as tusks and horns. They don't look very much like giant lizards anymore but more on the mammal side. I think that actually may have been why they didn't seem to fit into my world because I was imagining the stereotypical dragon with all the scales and the long snakish neck and the fire breath and everything but once Oris came into my head that all went away and I knew that they would be looking a bit different.
So, now I got some new things to outline in Remnants cause I'm sure there will be dragons! This will be great, having this added diversity. Quite honestly I can't wait till I get to book two so I can write about Oris!
I hope everyone is having a good time with their NaNo stories! And if you haven't already, click the NaNo Bloggers image at the top of the sidebar to get a list of blogging wrimos and to add your blog if you will also be blogging for NaNo.
Good Luck!